Wilderness Retreat
20 – 26 May 2023 |  2 – 8 September 2023 | 16 – 22 September 2023 | Orkland, Norway
The Wilderness Retreat is a trip into Norway's pristine nature and a journey to yourself. A nature retreat without distraction: we live in the here and now and take time for self exploration. Nature can provoke questions, give new insights or even trigger real change. Find out for yourself what nature has to offer for your self discovery!
Find Yourself Self Discovery – Self Exploration
With a group of seekers we retreat for a week in the wilds of central Norway. We live in a nature camp, get a part of our food from nature, cook at the campfire and sleep under the open sky, protected only by light tarps. Supported by expert guidance, we will step into the rhythm of nature.
There is no fixed program, we simply follow the natural flow of things. We offer a wide range of options to stimulate your connection to nature, facilitate your self discovery and your self exploration. The week culminates in a 24-hour solo quest in the wilderness outside the camp, the ultimate way to connect with nature and to find yourself.
What you do during the retreat is entirely up to you. You can go exploring on your own, or join others for fishing. Whatever you do, you can be sure that your fellows will support you and that there will be someone to share your experience with. Of course we facilitate exchange and reflection as important means of your self exploration.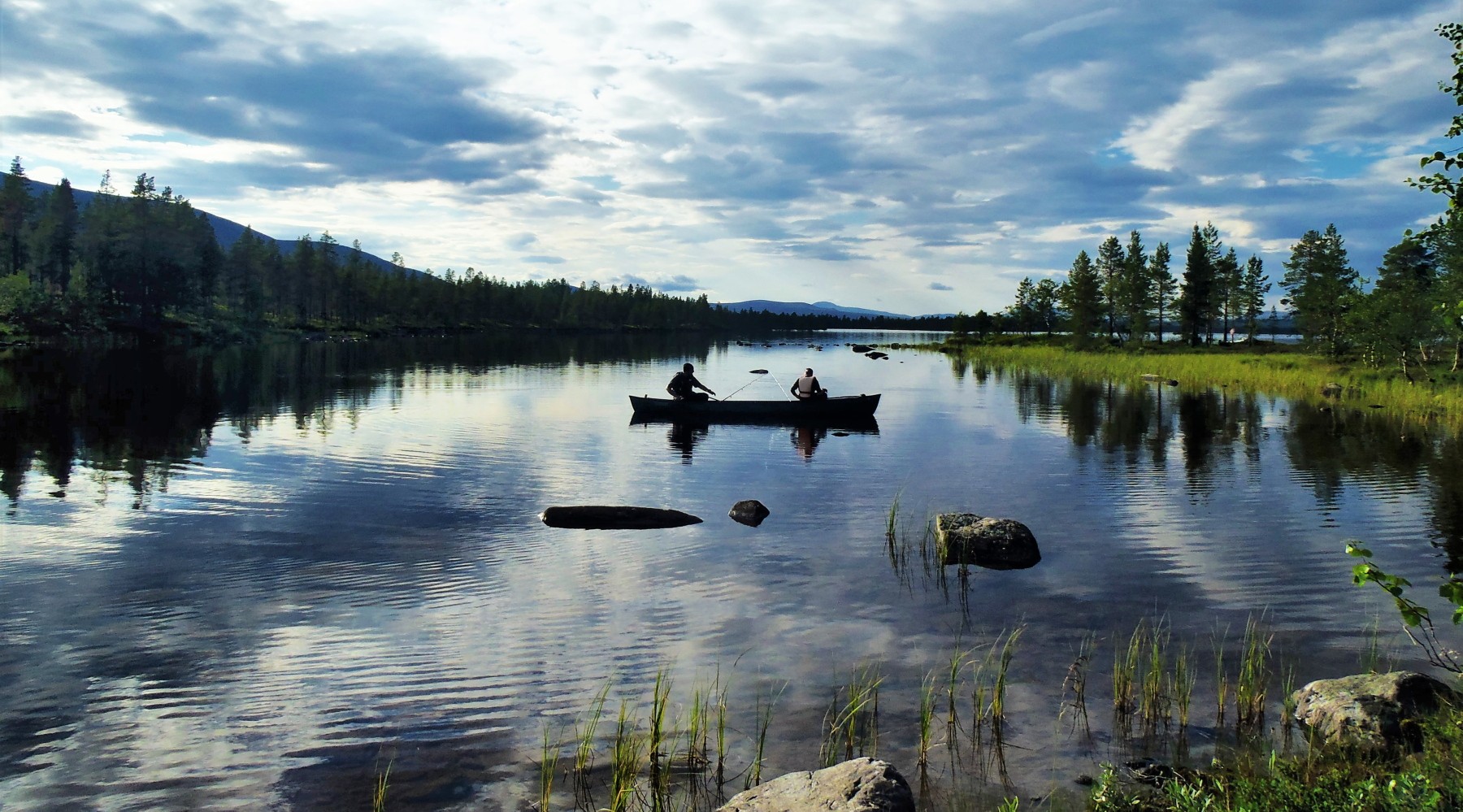 DETAILS – WILDERNESS RETREAT
The Course
The 7-day wilderness retreat starts and ends at Trondheim Airport, Central Norway.
On the day of arrival the group meets at noon in the arrival hall. A taxi transfer takes the group to the camp in the wilds.
We spend the full 6 days / 7 nights of the retreat in the camp and its wilderess surroundings, including a 24-hour solo.
On the day of departure, a transfer takes the group back to Trondheim airport in the morning.
The transfer times correspond with flights from/to Amsterdam.
The course may be subject to changes.
View location on a map:

Course Profile
The retreat is designed for adults seeking for answers to personal questions, for self discovery and self exploration.
A time out from everyday life, a time consciously spent in the wilds, facilitated trough thoughtful interventions and embedded in a respectful group. We strongly trust that this will unfold its magic to stimulate and mature your self discovery processes.
The participants run the camp in fellowship. It is up to you to participate in the way that seems appropriate to you.
You want to:
take a break from everyday life and its distractions
find answers to personal questions
lose your ego in the wilds and find your self
Read more about the general profile:

Included Services
Group with 6-12 participants
Facilitator team, 2 process facilitators (Back to the Wild) and Thoralf Rumswinkel (change WILD!)
Content as described
Regional transfers
6 overnight stays in a nature camp, incl. tarps
Full board with fresh and partly local food
Group equipment for the nature camp
Canoes, fishing equipment and licences
First aid equipment
Dates
WILDERNESS RETREAT
(Organizer: Back to the Wild)
20 – 26 May 2023 (en-nl)
2 – 8 September 2023 (en-nl)
16 – 22 September 2023 (en-nl)
Price
1 695 € (private)
1 895 € (freelancer)
2 350 € (business)
SEND REQUEST