Canoeing Trip
17 – 27 July 2023 | Femundsmarka, Norway
A combined canoeing and hiking trip in Norway's secret nature paradise, an expedition to crystal clear waters and serene mountains. Canoe camping is a true journey into the wild, a tour with tent, fishing rod and wilderness living at a campfire.
On the verge of the famous Femundsmarka wilderness area, Mt. Rendals Sølen rises high, towering over the Lake Sølensjøen. Lake and mountain form a unique nature paradise, our tour destination.
In a series of canoeing legs we explore the lake's hidden bays, idyllic islands and the calm tributary river Sølna. Day hikes lead us up to the surrounding mountains, where enchanted forests, vast highlands, clean tarns, panoramic views and a cathedral of cliffs and a rich but elusive wildlife  are waiting for us. In leisury hours we offer special exercises to connect us even stronger to this extraordinary wilderness world. Who feels like fishing, may also try the lake's rich fishing grounds.
Sheltered sandy beaches or nearby hillocks, wooded with gnarled old pine trees, invite us to pitch camp for a night. We spend the bright summer evenings with sharing dinner and relaxing around the campfire.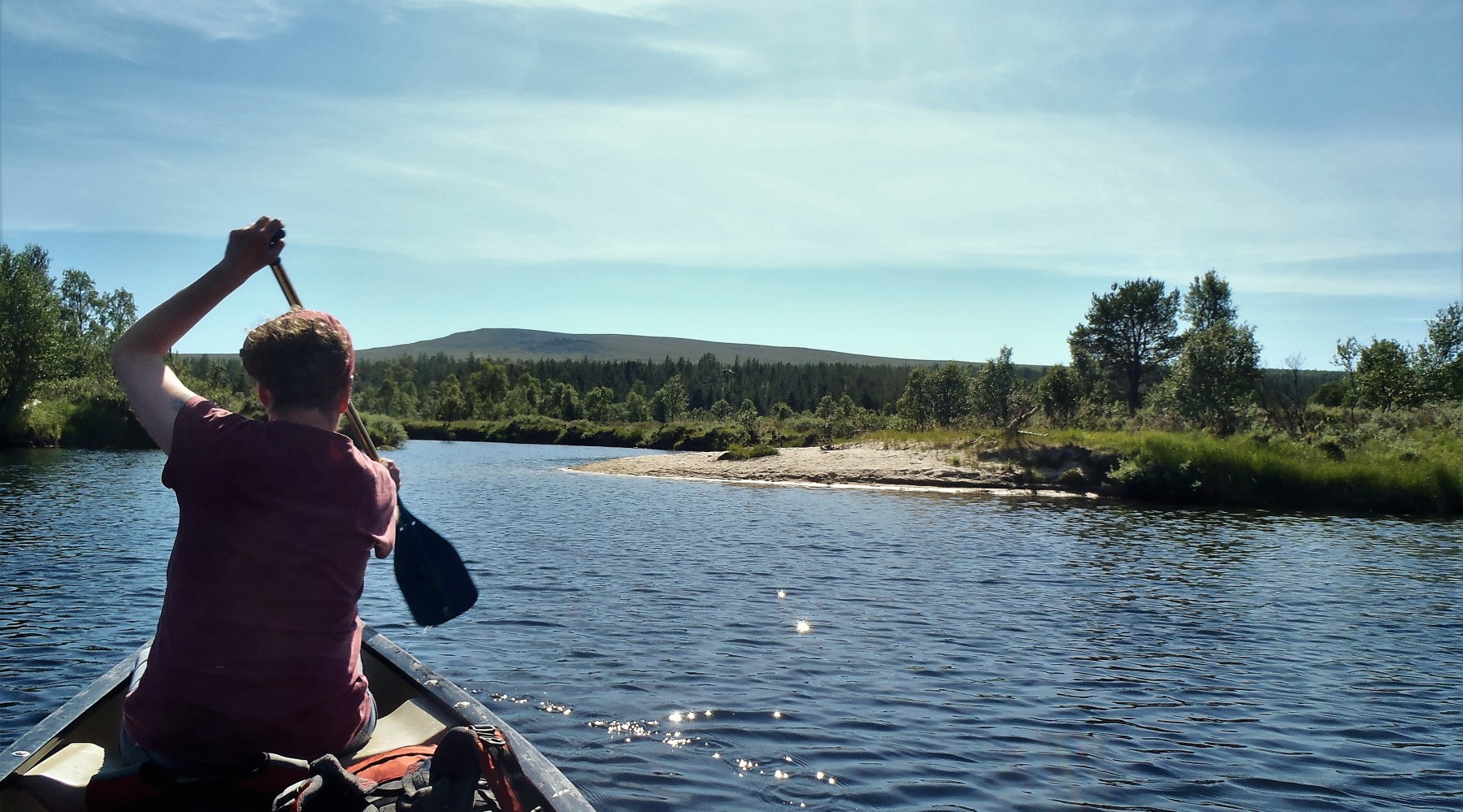 DETAILS – CANOE CAMPING
Program
The 11-day canoe camping trip starts and ends at Koppang station, Norway.
On the day of arrival we meet there in the afternoon. A joint taxi transfer takes us to the shore of the Sølna river. There we set up our first camp.
The canoe trip starts the next morning after an introduction to canoeing. We have a full 9 days for the expedition with 6 canoeing legs and 3 day hikes.
At the end we return to the first camp site for a last overnight stay together. On the day of departure we get back to Koppang station by taxi in the morning.
Start and end of the tour correspond with the trains to / from Koppang.
The program may be subject to changes.
View destination on a map:
Tour Profile
The combined canoeing and hiking expedition is suitable for beginners and experienced paddlers, for adults and accompanied teenagers and children from age 10+. Swimming skills are required. The day hikes in partly pathless and demanding terrain require some surefootedness.
6 canoeing legs of 3-5 hours duration on a calm waters.
3 day hikes on agreement, e.g. three-hour forest tour, medium mountain tour (500 m difference in altitude), challenging mountain tour (up to 1,000 m altitude)
On this expedition, we are all mutually dependent on each other. Your active participation is required.
You want to:
Explore a varied lake district in a canoe
Go hiking in a varied landscape
Enjoy camp life and wilderness living at a campfire
Immerse yourself in the wilderness and connect with nature
Read more about the general profile:

Included Services
Group with 5-12 participants
Lead by Thoralf Rumswinkel
Program as described
Introduction to canoe paddling
Joint taxi transfers from/to train station
10 outdoor overnight stays in you rown tent
(Tarp with mosquito net can be rented)
Canoes (two-seaters), paddles, life jackets
(You can bring your own canoe)
Communal fishing gear and fishing licence
(You can bring your own set)
Part of the provision
(fresh and regional food; you bring your own durable food.)
Group equipment for the camp
First aid and safety equipment
Additional Services

Rental tarp with mosquito net (300,- nok /30,- €).
Fishing license for own fishing set
(free of charge with advance reservation)
Dates
CANOE CAMPING
17 – 27 July 2023 (German)
Dates in English on agreement
Season: July to September
Price
SEND REQUEST