SKI TREKKING Nordic Backcountry Skiing from Cabin to Cabin
This is a unique ski expedition in the highlands of Norway, a guided ski trekking from cabin to cabin. Go backcountry skiing on traditional wooden skis, explore a vast mountain tundra and immerse into the magic of subarctic landscape.
The Forollhogna national park and highlands in Mid Norway are the ideal terrain for backcountry skiing and ski trekking expeditions. We roam the subarctic mountain tundra as freely as the native wildlife.
It is all about getting back to nature and the basics. A pair of traditional wooden skis and a backpack is all we need to explore this land, to immerse in it. Nothing is fixed. Day by day we decide on a route to head out on.
We navigate by natural signs and clues in the landscape. Observe snow, wind and weather keenly. Comply with the elemental forces, be they challenging or friendly. On occasion we track wild reindeer, wolverine or arctic fox, to see how they master life in this harsh climate. In the vast expanse of snow and ice under an infinite sky we let our thinking mind calm down.
We stay in isolated hunter's cabins of our choice. Equiped with just everything necessary, they offer a perfect basic accomodation. Here we jointly prepare the food we bring with us. Enjoy dinner by candlelight and relax in the warmth of a crackling stove fire. If necessary or desired, we spend a night bivouacking in the snow.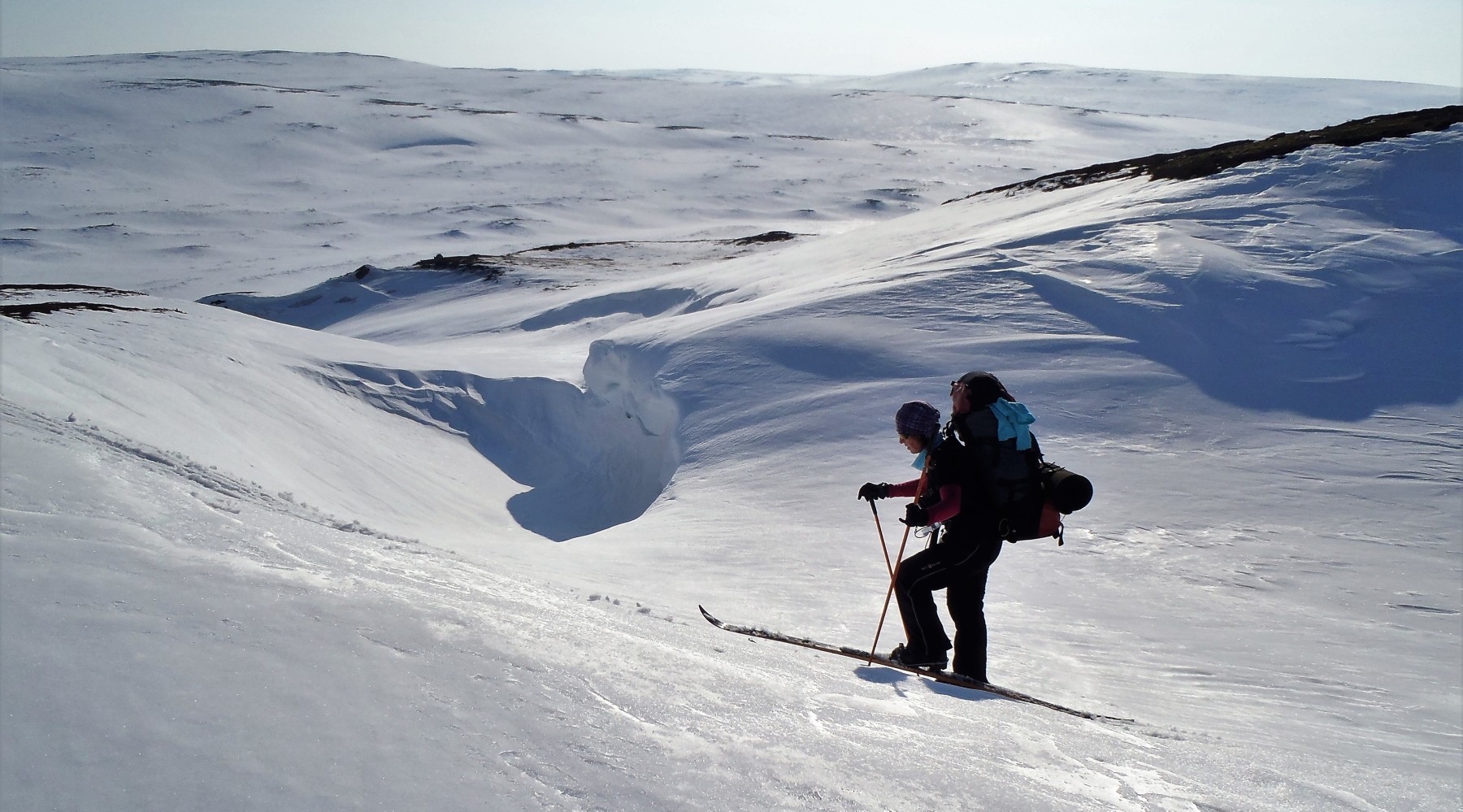 DETAILS – SKI TREKKING
Program
The 8-day ski trekking begins and ends at Tolga station, Norway, a 4 hours train trip North of Oslo. (Shorter or longer versions are available on agreement.)
On the day of arrival we meet in Tolga in the afternoon. A joint taxi transfer takes us to the first accommodation (lodge) on the edge of the national park. Here we spend the first two nights. Introduction to skiing on traditional fjell skis and first half-day tour in the vicinity of the lodge.
The following day we head out to the ski expedition in the Forollhogna highlands, trekking from cabin to cabin. We have a full 5 days available for this.
At the end we return to the first lodge for a last overnight stay together. In the morning of the departure daya transfer takes us back to Tolga.
Start and end of the tour correspond with the trains from/to Tolga.
The program may be subject to changes.
View destination on a map:

Tour Profile
This ski expedition is suitable for adult skiers and youth aged 16+ with previous skiing experience. The ski trekking runs off track, in gentle terrain mostly above the tree line. The stages are 10-20 km long with up to 500 m difference in altitude. Initial backpack weight about 18 kg.
1 half-day tour without luggage
5 skiing legs with backpack
On this ski expedition, we are mutually dependent on each other. Your active participation is required.
You want to:
Experience backcountry ski trekking extensively
Immerse in a subarctic winter landscape
Do bivouacking in the snow (optional)
Connect with nature
Read more about the general profile:
Included Services
Small group with max. 4 / max. 8 participants
(depending on the details)
Lead by Thoralf Rumswinkel
Special permit for the National Park
Program as described
3 overnight stays in lodge
(electricity, no running water)
4 overnight stays in hunters' cabins
(without electricity and running water)
Bivouac overnight stay (optional)
Station transfers on arrival and departure day
Set of wooden skis with cable binding, poles and ski wax
(You can bring along your own fjell skis.)
A part of the food (regional specialities)
Bivouac equipment, first aid and safety equipment
Additional Services

Food package for full board (950,- nok / 95,- €)
Dates
SKI TREKKING
On agreement
Season: March to April
Price
from 12 750,- nok / 1 250,- €
SEND REQUEST